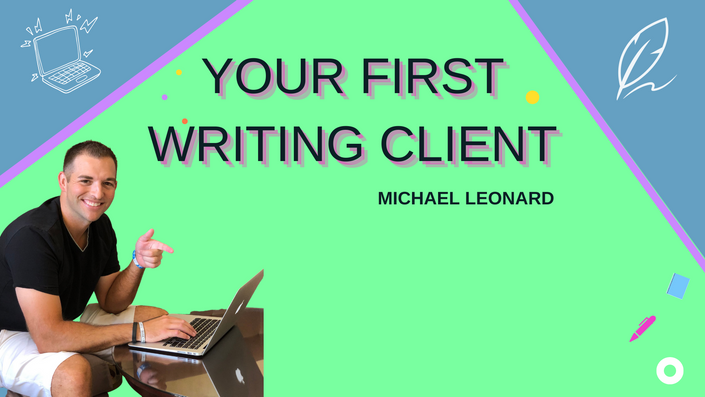 Your First Writing Client
Land your first client in 30 days or less
Clients are the lifeblood of your freelance writing business.
You can be the greatest writer ever but if you can't land clients, no one will pay you for your work.
I'm going to be 100% transparent with you:
This is the BEST time ever to start an online writing business.
Literally, the best time...
Here's why:
Almost no job is safe (thanks 2020).
More people are online than ever before
Blogs/websites are focused on serving their new audience
And these websites need YOU aka great writers.
Amazing content doesn't get created out of thin air...
... It comes from awesome writers like YOU.
But if you can't get anyone to hire you, none of this works :(

I know what it's like to feel discouraged, frustrated, and tired of blogging with nothing to show for it.
I know how tough it is to keep going when you feel overwhelmed and don't know what to do next.
The good news?
You only need to get your FIRST client.
ONE client can change your life and take your business to levels you never even imagined.
I've been working with one client for two plus years and made $50,000 writing about golf.
Another client (Fearless Motivation) I worked with had me create 100 blog posts, thousands of dollars of income, and MILLIONS of views.
Another client I'm still working with has earned me $20K through weekly blog posts.
This isn't anything crazy... it's simply creating epic blog posts for clients.
So let's help YOU get that first client (or the next client at a rate you deserve).
How do we do it?
Quit focusing on all the little things that DON'T move your business forward and focus on what does - landing clients.
And I created a step-by-step plan to help you do just that.
It's exactly what I teach inside my new 10 video mini course - "Your First Writing Client."
It's so valuable I should price it at $197.
Inside this video training, you will discover:
The top 3 mistakes freelancers make
Why most writers struggle landing clients
The platforms you should (and shouldn't use right now)
Some of my six-figure pitch tips that get clients to respond and say Y-E-S
And a lot more.
This is THE BEST free writing program you will ever find.
This one program could yield you hundreds, if not thousands of dollars by teaching you how to land clients.
And I don't want any $$$ from you.
I just want you to join the mini-course, watch the videos, and take action.
I am confident that when you watch these videos and implement what I teach, you can find success as a writer.
Join NOW for FREE!

Course Curriculum
BONUS Resources
Available in days
days after you enroll
Frequently Asked Questions
When does the course start and finish?
The course starts now and never ends! It is a completely self-paced online course - you decide when you start and when you finish. Go at your own pace or binge it like your favorite Netflix show to start getting clients (and revenue) FAST!
Who's teaching this course?
Michael Leonard - the creator of Inspire Your Success and Wicked Smart Golf. He's been a freelance writer since 2017 and used his writing skills to never go back to 9-5 job. His work has been read by millions of people and wants to help writers make money freelancing.
If I am just getting started and I don't have a business yet, is this still a good fit for me?
Yes, this was built to help brand new and beginner-intermediate freelance writers. Whether you've never written a blog post before or already have a few clients, this program will give you everything you need.
I struggle with confidence and imposter syndrome as a writer, will this help?
You and me both. If you have a desire to share your word with the world, I can help you overcome them and FINALLY take action on your dreams. I'll help you overcome fear, worry, perfectionism or criticism.
I'm not very tech-savvy. Do I need to be tech-savvy for this to work?
No! If you can send emails and write words online, you can make this work. Inside this free writing course there is a tutorial to help you learn how to cheaply outsource anything you can't figure out as well. The tech stuff doesn't have to hold you back from making money as a writer.
Do I need to know my niche before starting this program?
Nope, inside Your First Writing Client there are several resources to help you learn how to pick a profitable writing niche. Plus, you can always start as a generalist to launch your writing career and niche down as you go through the program.